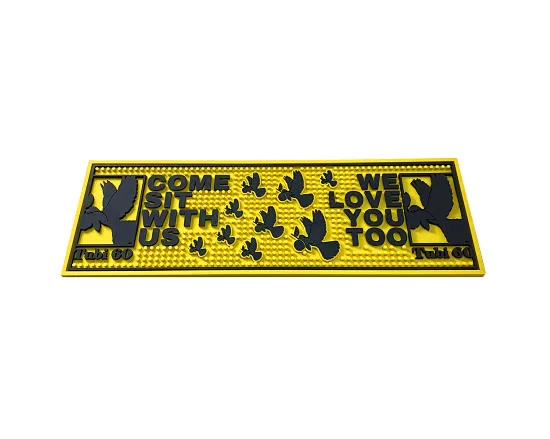 Bar Drink Rail Mats
Size: 60×20×1CM; Material: FDA Soft PVC Rubber/Silicone
bar rubber drink mats/bar drink rail mats/rubber beer mats/custom bar runners/large rubber bar mats
*The large rubber bar mats are mainly made of pvc soft rubber material using glue technology.The bar rubber drink mats can be used in bars,coffee bars and others.
*The rubber beer mats features: Soft pvc large rubber bar mats is used to promote the brand image in subtle places.
*The bar drink rail mats: Exquisite and beautiful,non-toxic,environmentally friendly,high temperature resistant.
*The custom bar runners color: Bright,the craftsmanship is novel and unique,and custom bar runners are designed and produced.
| | |
| --- | --- |
| High Quality | PVC rubber or silicone bar drink rail mats |
| Protection | Protect all your glasses or stone or wood bar rubber drink mats |
| Product Size | 60×20×1CM,rubber beer mats |
| Stylish | Fashion anti-slip |
| Small Moq | MOQ is 200pcs |