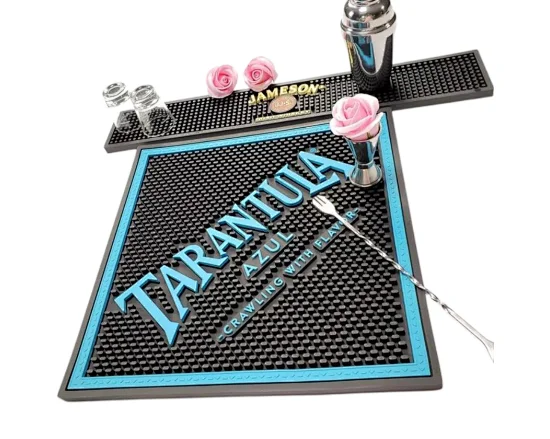 Bar Drink Counter Mats
Rail Mat Size: 54*8.9*1.27CM
Counter Mat Size : 35.5*35.5*1.27CM
Material: Pvc rubber/Silicone
The bar counter mats/custom bar mats rubber/bar mats with logos/bar drip mat/bar spill mats with logos
 
This bar drip mat for the bar counter mats is what you can find in any tasteful commercial bar spill mats with logos.It is made of durable PVC rubber.
 
•Prevent the glass from slipping and sliding,while using bar spill mats with logos to prevent staining and damage to the counter.
•A variety of standard sizes.The custom bar mats rubber size is also available,and OEM service is provided.Also custom bar mats with logos.
 
•The bar drip mat for bar counter mats is very suitable for use around bar counters/service areas,nurse stations and retail counters.
 
• The bar mats with logos has antibacterial properties,does not absorb water and is easy to clean,custom bar mats rubber and bar spill mats with logos.
 
| | |
| --- | --- |
| The bar drip mat size | 54*8.9*1.27CM,bar drip mat |
| The bar counter mats size | 35.5*35.5*1.27CM,bar counter mats |
| Material | Eco-friendly soft PVC rubber or silicone,custom bar mats rubber |
| bar mats with logos Logo | Inject from mould, not simply print, bar spill mats with logos |
| Good for hold liquid | Nibs design and 1.27cm thick, custom bar mats rubber |
| Easy to wash | The bar mats with logos made from soft PVC rubber, can wash very easily |