Silica Gel Market Size Grow Up
2022-10-08
About Silica Gel Market:

*The global Silica Gel market size was valued at USD 10481.06 million in 2021 and is expected to expand at a CAGR of 5.9% during the forecast period, reaching USD 14787.35 million by 2027.Silica gel is an amorphous and porous form of silicon dioxide (silica), consisting of an irregular tridimensional framework of alternating silicon and oxygen atoms with nanometer-scale voids and pores. The voids may contain water or some other liquids, or may be filled by gas or vacuum. In the latter case, the material is properly called silica xerogel.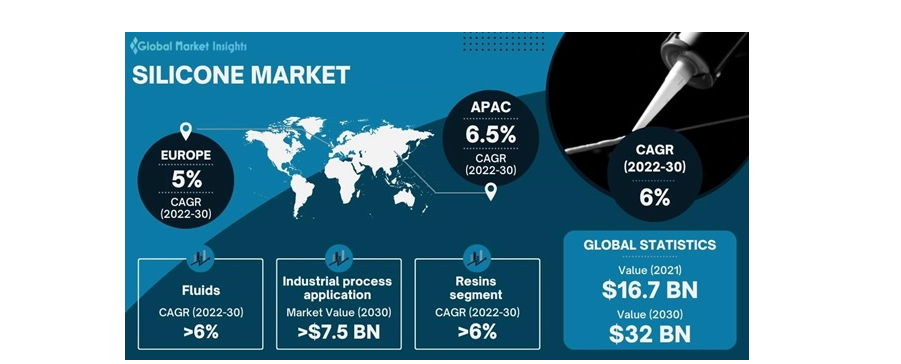 *The Silica Gel market size, segment size (mostly including product type, application, and geography), competitive environment, current status, and development trends are the key topics of the report. The research also offers business methods to help them deal with COVID-19 concerns.

*Silicones, also known as poly-siloxanes, are synthetic polymers comprising carbon, hydrogen, and other elements with repeating monomers of siloxane, a chain of alternating silicon & oxygen atoms. It is a durable synthetic material derived from silicon, which is used in plastic & cosmetic surgeries and to make polishes. Poly-siloxanes has remarkable properties, making it suitable for a wide range of applications. It has strong insulation, high water resistance, versatility, stability, and resistance to aging. Poly-siloxanes is also suited for industrial applications owing to its anti-foaming qualities.


Silica Gel Market Competitive and Segmentation Analysis:

*For the competitive landscape, the report also introduces players in the industry from the perspective of the market share, concentration ratio, etc., and describes the leading companies in detail, with which the readers can get a better idea of their competitors and acquire an in-depth understanding of the competitive situation. Further, mergers and acquisitions, emerging market trends, the impact of COVID-19, and regional conflicts will all be considered.

*The COVID-19 crisis has had only a mild impact on the silica gel market, as it is majorly used in essential industries such as food and pharmaceuticals, which were protected to minimize disruptions to the supplies of essential commodities. As a result, the silica gel market has not been hit as hard as most other sectors during the COVID-19 pandemic.

Silica Gel Market Drivers:

*Growth of biotechnology is expected to increase silica gel demand over the forecast period. Within the pharmaceutical industry, silica gel column chromatography is helpful in collecting or segregating different components of a drug. This technique is also employed for researching various medicines such as local anesthetics, sedatives, hypnotics, analgesics, and steroids.
 
Increase in demand for medicines, especially in emerging economies such as India and China, is projected to drive biopharmaceuticals demand, which, in turn, will boost the growth of the chromatographic silica gel market during the forecast period.
As the number of homes increase owing to urbanization, awareness related to keeping the air fresh and clean within homes is also increasing. Additionally, cabs, cars, etc., must also be maintained, cleaned, and refreshed on a regular basis to provide a comfortable and fresh environment for people opting to use them for traveling. The popularity of fragrance silica gel is growing, as it creates a suitable and comfortable environment, and thus, also enhances work efficiency.