Differences Between PVC and Silica Gel
2022-10-07
Is Soft PVC Same With Silicone Or Rubber? 
*Soft pvc is pvc, is a kind of plastic ,not silicone or rubber. The full name of PVC is Polyvinylchloride, and the main ingredient is Polyvinyl chloride. PVC is with poor stability to light and heat. Stabilizers must be added in practical applications to improve the stability to heat and light. PVC used to be the world's largest production of universal plastic, widely used.

*Silicone is made of silicon, carbon, hydrogen, and oxygen.it has stable chemical properties and does not burn. Silicon raw material is a transparent or milky granular solid, with an open porous structure, strong adsorption, adsorption of a variety of substances. Silica gel can be reused after regeneration.

The Characteristic Of Soft PVC
*Polyvinyl chloride (PVC) has high mechanical strength, wear resistance at room temperature exceeds that of vulcanized rubber, and hardness and rigidity are better than polyethylene.
*The electrical insulating properties of polyvinyl chloride (PVC) are good, and its performance depends on the type and amount of various additives in the formulation, and it is also related to heating conditions. For example, when heating causes PVC to decompose, the electrical insulating properties are reduced due to the presence of chloride ions.
*The embrittlement temperature of hard polyvinyl chloride PVC is lower than -50 °C, and it becomes soft at 75~80 °C. The glass transition temperature varies with the polymerization temperature. The glass transition temperature is generally considered to be 80~85°C. PVC will degrade in the air above 150 ℃ and release HC1. If it is exposed to 100 ℃ for a long time, it will degrade if no alkaline stabilizer is added; if it exceeds 180 ℃, it will degrade rapidly. It has flame retardancy, but the addition of plasticizers will reduce the flame retardancy.
*Polyvinyl chloride (PVC) will degrade under the action of light, and the process is similar to thermal degradation. The most sensitive light wavelength of PVC is 270~310nm. Resistant to non-polar solvents such as petroleum and mineral oil. Plasticizer-free products, resistant to most inorganic acids and bases, quite stable to salts, swells or dissolves in some ketones, ethers, esters and chlorinated hydrocarbons, cyclohexanone and tetrahydrofuran are good solvents , insoluble in water, alcohol, gasoline. Usually, the addition of plasticizer makes PVC products susceptible to solvent erosion, and it is easy to be eroded by bacteria in a hot and humid environment, so it is necessary to add a mildew inhibitor.
The Characteristic Of Silicone
*
Temperature resistance: Silicon products have high thermal stability, and the chemical bonds of molecules do not break or decompose under high temperatures. Silicone is resistant to high and low temperatures and can be used over a wide range of temperatures.
*
Long Service life: Silicone products are not easily broken down by ultraviolet light and ozone. Silicon has better thermal stability, radiation resistance and weather resistance than other polymer materials. The service life of silicon in a natural environment can reach several decades.
*
Electrical insulation: Silicon products have good electrical insulation. Their electrical performance is little affected by temperature and frequency. Silicon also has excellent water repellency, which is the high reliability for electrical equipment in wet conditions.
*
Physiological inertia: Polysiloxanes are the most inactive compounds known. They are resistant to biological aging, no rejection of the animal body, and have good anticoagulant energy.
The Difference Between PVC Rubber And Silicone Gel:
  1.
Different in material:
PVC materials include common materials and environment-friendly materials

.


But silicone is more eco-friendly.
  2.Different in the process:
PVC products are made of polyvinyl chloride and oil together with color paste, and its raw materials are made by heating and cooling microinjection epoxy process. But the silica gel only needs to use the silica gel to add the color masterbatch to suppress and deploy in mixing machine, then put them in the mold by the heating and cooling to take shape.
  3.Different in character:
 Silicone products are more cold-resistant and more heat-resistant than PVC products. Tableware made of silicone can be heated in a microwave, while PVC can't.
  4.Different outside: 
From the appearance, PVC products are rougher than silicone products, silicone products have a smooth and shiny surface.
  5.Different in touching:
 According to the hand feeling, the silicone product is soft with good toughness and elasticity, while the PVC soft rubber is relatively less hard. The softness and hardness of both can be adjusted, but the PVC does not have tenacity.
  6.Different in burning: 
Silica gel products are generally transparent, with small burning smell and powder, while PVC products will turn black after burning and smell bad when burning.
  7.Different in the cost:
The raw material price of PVC products is low, which is made of synthetic materials. Silica gel is more expensive than PVC products in production and manufacturing.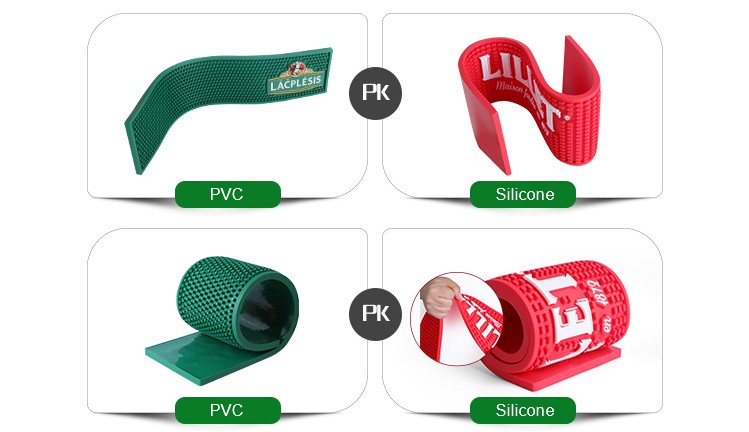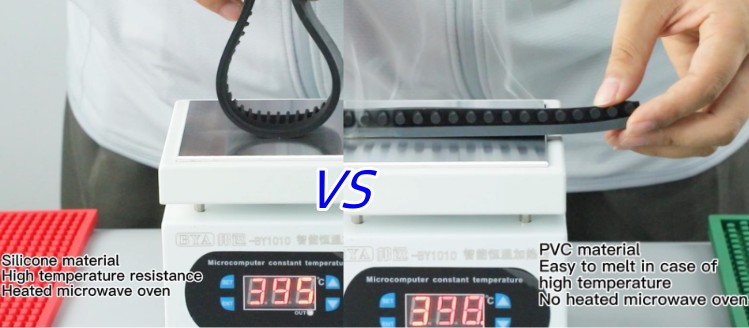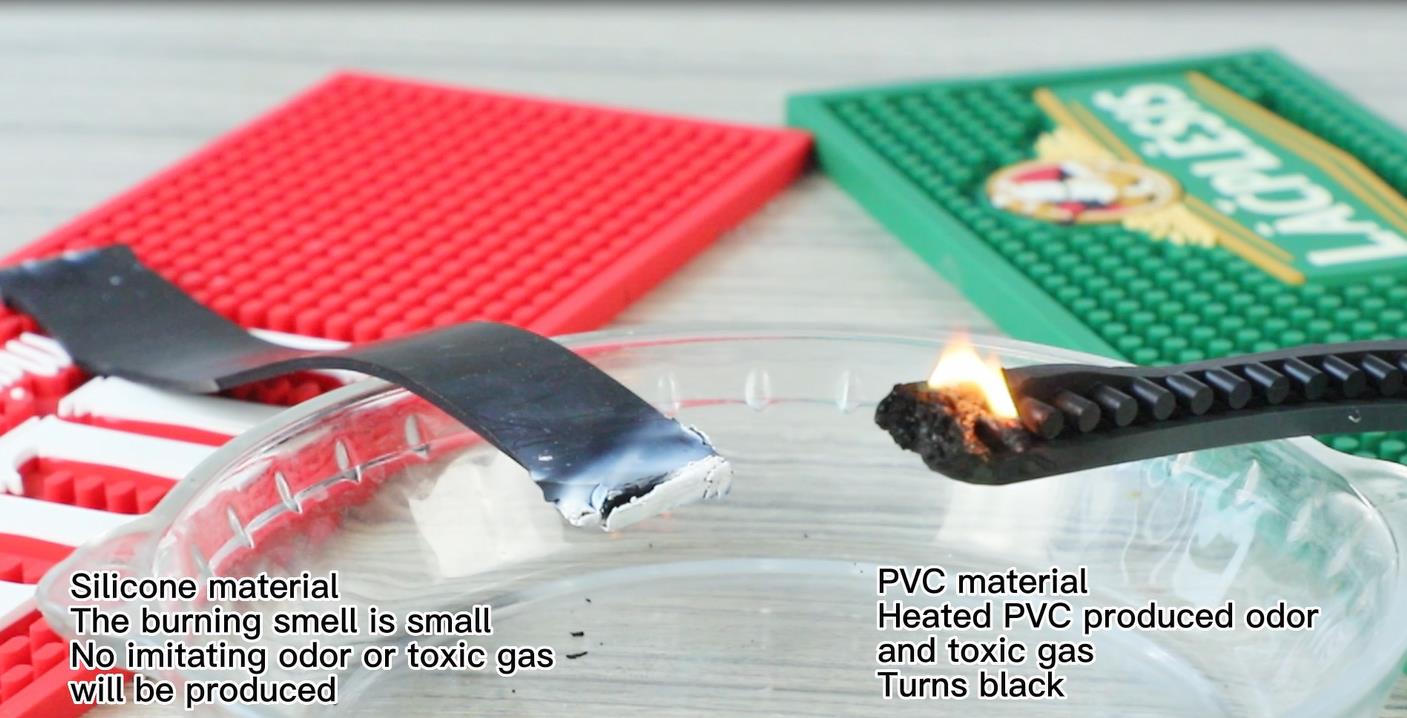 From the above differences, we can see that silicone is safer than PVC, which is more suitable for food and medicine materials. PVC products have a greater price advantage, more suitable as promotional gifts and other materials. It is of great importance to choose a safe and reliable PVC manufacturer who does not add harmful substances to your PVC products.