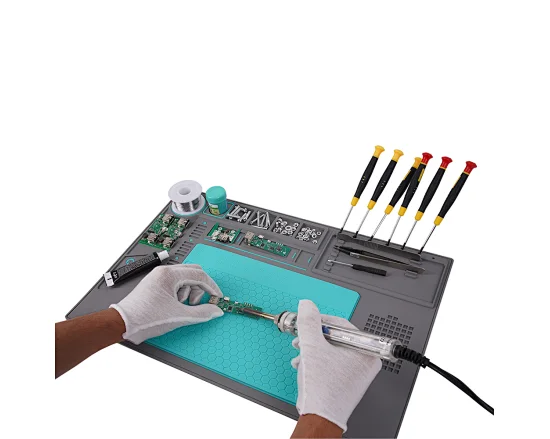 43*28*0.6cm Mobile Repair Soldering Mat
Size:43*28*0.6cm; Material:soft pvc rubber and silicone; Multifunctional repair mat.
Hennsery soldering mat - for repair tools
Why you need? 
*Ensure the safety and cleanliness of work surfaces. 
*Keeping tools and accessories organized and easily accessible. 
Key features: 
*The mat comes in a set of two: 
Big mat  -organize tools and accessories.
Small mat-withstand temperatures of up to 500 degrees for welding tasks.
Mats are made of high-quality materials,durable and long-lasting,reliable performance and proteciton for your tools and work surface.
 Easy to use and maintain a sleek and professional look for your workspace.
*Keeps tools and accessories organized and easily accessible, reducing the time and frustration of searching for misplaced items. 
*Protects work surfaces from damage and scratches, saving you time and money on repairs or replacements. 
*Provides a safe and efficient workspace for welding tasks, preventing accidents and injuries. 
In summary, this welding mat for repair tools is a must have accessory for any workshop or garage, providing organization, protection, and peace of mind for your valuable tools and work surface.