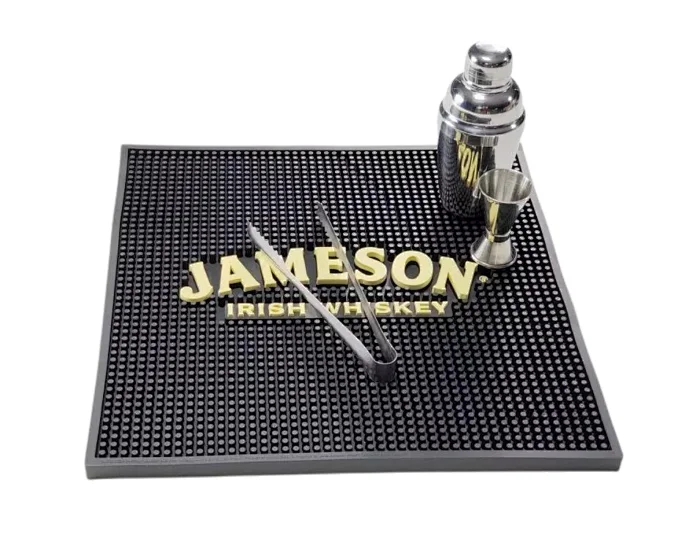 PVC Rubber Bar Mats
Bar Rail Mat;Size: 35.6*35.6*1.58CM;Material:FDA grade soft pvc/Silicone
PVC Rubber Bar Mats
This Hennsery sturdy long bar mat improves the hygiene and safety of the bar! The long bar mat is made of PVC, which has higher durability and lighter weight than the traditional rubber strip mat, and can provide the best drainage and friction. Whether you place a martini glass fresh out of the dishwasher on a PVC rubber bar mat to drain and dry, or place a mixed drink on it for the waitress to deliver it to the table, the PVC rubber bar mat makes the beverage service even better convenient and neat.
The bristle surface allows air to flow under the wet glass to achieve fast and effective air drying and provide a non-slip surface. The mat also helps absorb accidental spills or splashes. The end of the container provides drainage for spilled beverages, which helps keep liquids away from the counter, bar or floor, and ultimately makes cleaning up a breeze. Very easy to clean, just place the mat on top of the sink and let the liquid drain. Rinse with warm water. This bar mat has a smooth white, which can complement almost any place decoration.
Size:35.6*35.6*1.58cm.
Special pattern nibs: fashion design on the base nibs shape.
Material:FDA grade soft pvc/Silicone, food-safe so you do not need to worry if your garnishes or glasses come in direct contact with the mat.
Use for: Bar, barber, home, anywhere you need to protect the table or surface.
Shinny color : Gold color on logo to make it shinny and bright.