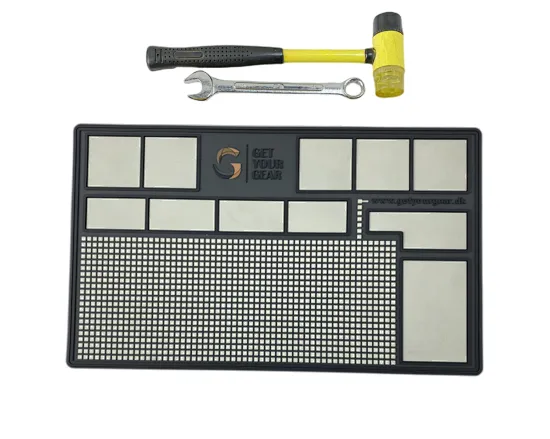 Workbench Anti Slip Mat
Size:500*300*5mm;Material:Pvc rubber.
prubber workbench pinning mat/lab pinning mat
The lab pinning matare ideal products for repairing telephones,laptops,computers,sports watches,cameras,smart toys, glasses and other small equipment.It can also be used for soldering irons,soldering electronic components,circuit boards,engraving handmade,etc.The prubber workbench pinning mat is easy to clean with soap and water, and can even be wiped with alcohol.
Material: Flexible heavy duty pvc rubber,lab pinning mat
Good design: Different parts Keep small parts, tools and components organized during a repair,avoid loss or rolling Good for working on knives, watches our any other DIY project you are tinkering with.
Size: Accept oem prubber workbench pinning mat,size:500*300*5mm.
Logo and colors: Injected by mould not printed on , can use over 5 years without color fading.