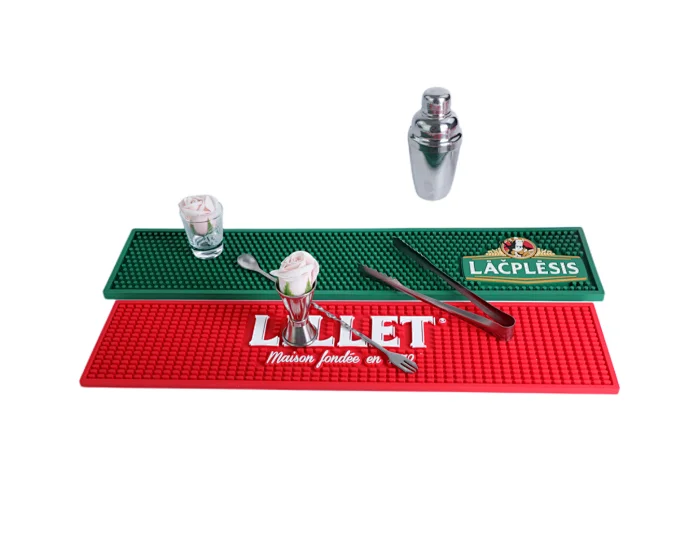 Counter Top Rubber Bar Mat
Bar rail mat Size: 58.9*8.9*1.27cm
Bar counter mat size:35.6*35.6*1.27cm
Material:Pvc/Silicone
Counter Top Silicone Rubber Bar Mat
Hennsery's design of counter top rubber bar mat takes into account the working environment of the bartender. The rubber mat for bar counter provides more drainage space for the cocktail shaker to keep the bar countertop overflow-free and hygienic. No longer use dirty towels for bar counter, just take counter top rubber mat for mixing.

This Shaker-Mat can be customized in many colors. They are large enough for a single bartender and can also be combined for other applications.
Bar rail mat Size: 58.9*8.9*1.27cm
Bar counter mat size:35.6*35.6*1.27cm
Material:Pvc/Silicone
Multipurpose- Great for anywhere will have liquid drop ,such as Bars, Coffee Machines, Kitchens, Dining Tables, Barbers, Counter tops ect.
Anti-slilp - Non Slip pvc rubber mat designed to stay well to protect your glasses or any counter surface. These mats are heavy, commercial grade ideal for bar, restaurant and home use.
Food grade - Made from FDA grade soft pvc/rubber, can be even used to dry fruit or food.