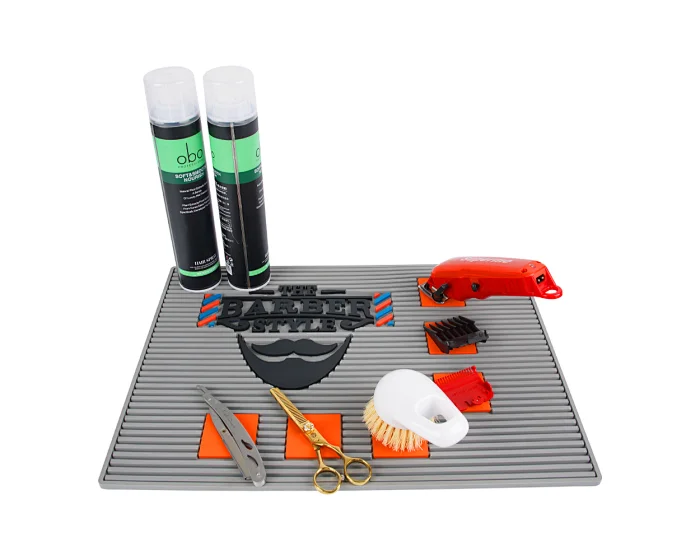 45*33*0.8CMBarber Mat for Tools
Size:45*33*0.8CM;Heat resistant up to 190 degrees F
45*33*0.8CM Barber Mat for Tools
Hennsery barber mat for tools can easily protect your tools and workstation. This durable attachment provides grip to prevent basic tools from slipping off.
Specially manufactured, the barber shop mat can provide the highest heat resistance to place a warm hair clipper without damage. Our mats are easy to clean and can enhance any organized workstation.
The professional construction means that the barber shop mat is durable and can be easily wiped clean when needed. If you are a mobile therapist/hairdresser/barber, you can transport, roll and place wherever you need it.
There are hundreds of air bubbles on it, the mat is non-slip and can hold your tools in place.
The barber mat for tools is suitable for some thermal protection, but we only recommend placing the straightener on it when the straightener is turned off.
Size:45*33*0.8CM
Heat resistant:can stand up to 190 degrees F
Color:can make any pantone color to match your barber shop
Material:durable pvc rubber,can use more than 5 years without color fading
Base pattern: lines design to make the mat can hold dust, liquid , hair or any dirty things
Organize your barber station:make you easier and faster having all your tools at the correct place.
Countertop and Work Station Protector: It will gives you a nice, soft, durable area to place clippers, brushes, scissors, or protect your station and countertop from damages, stains and spills. Keeping bars and tables clean.